Magnetic Glass Whiteboard surfaces by GlasPro bring new possibilities into work and educational interiors, allowing maximum utilization of wall space with a minimum of maintenance. Our magnetic glass surfaces – unlike traditional glass laminates – can be used in any application that requires a surface to which magnets or magnetic materials may be adhered. Additionally, these products may serve as dry-erase boards and projection surfaces. With the capability to fabricate pieces to any size, GlasPro offers fresh, new solutions to age-old challenges allowing our customers to better compete in a changing market place.
Learn more about our other products on the side panel to the right. We have so many products to fit your industrial design style. Browse the collection now! 
Please feel free to contact us for any questions, consultation or order a sample today.
Magnetic Glass Whiteboard Accessories
GlasPro Magnets – $10 usd
Dry-Erase Markers Chisel Tip 8 piece set – $15 usd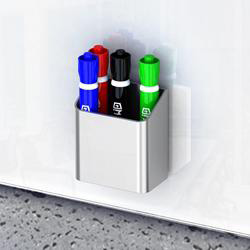 Magnetic Pen Cup (plastic) 3-5/8″ x 3-1/8″ x 3-1/4″ – $24 usd
*markers sold separately
Magnetic Eraser 4-1/2″ x 2-1/8″ x 7/8″ – $18 usd
Magnetic Marker Adapter (fits expo style markers) – $5 usd
*markers sold separately
Available Pen Tray
*GlasPro can provide you with a custom aluminum pen tray, which is cut to the same width as your magnetic glass panel.
Magnetic Pen Tray (aluminum) 12″ x 2-1.2″ x 1-1/4″ – $65 usd
*markers sold separately
Magnetic Pen Tray (aluminum) 18″ x 2-1.2″ x 1-1/4″ – $80 usd
*markers sold separately
Magnetic Pen Tray (aluminum) 24″ x 2-1.2″ x 1-1/4″ – $95 usd
*markers sold separately
Zbar Mounting System
Magnetic Glass also available with standoff hardware