With the introduction of our new Magnetic Glass surfaces, GlasPro brings new possibilities into work and educational interiors allowing maximum utilization of wall space with a minimum of maintenance. Our magnetic glass surfaces – unlike traditional glass laminates – can be used in any application that requires a surface to which magnets or magnetic materials may be adhered. Additionally, these products may serve as dry-erase boards and projection surfaces. With the capability to fabricate pieces to any size, GlasPro offers fresh, new solutions to age-old challenges allowing our customers to better compete in a changing market place.
Please feel free to contact us for any questions, consultation or order a sample today.
Magnetic Glass Whiteboard Accessories
GlasPro Magnets – $10 usd
Dry-Erase Markers Chisel Tip 8 piece set – $15 usd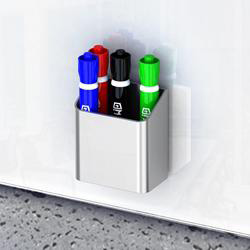 Magnetic Pen Cup (plastic) 3-5/8″ x 3-1/8″ x 3-1/4″ – $24 usd
*markers sold separately
Magnetic Eraser 4-1/2″ x 2-1/8″ x 7/8″ – $18 usd
Magnetic Marker Adapter (fits expo style markers) – $5 usd
*markers sold separately
Available Pen Tray
*GlasPro can provide you with a custom aluminum pen tray, which is cut to the same width as your magnetic glass panel.
Magnetic Pen Tray (aluminum) 12″ x 2-1.2″ x 1-1/4″ – $65 usd
*markers sold separately
Magnetic Pen Tray (aluminum) 18″ x 2-1.2″ x 1-1/4″ – $80 usd
*markers sold separately
Magnetic Pen Tray (aluminum) 24″ x 2-1.2″ x 1-1/4″ – $95 usd
*markers sold separately
Zbar Mounting System
Magnetic Glass also available with standoff hardware