STANDARD & CUSTOM SIZES
Choose from a wide selection of standard sizes or give us your custom measurements.
Magnetic Glass Whiteboard surfaces by GlasPro bring new possibilities into commercial and educational interiors, allowing maximum utilization of wall space with a minimum of maintenance. Our magnetic glass surfaces – unlike traditional glass laminates – can be used in any application that requires a surface to which magnets or magnetic materials may be adhered. Additionally, these products may serve as dry-erase boards and projection surfaces. With the capability to fabricate virtually any size, GlasPro offers fresh, new solutions to age-old challenges allowing our customers to better compete in a changing marketplace.
Why Choose ReMarkable by GlasPro
Not all Magnetic Glass Whiteboards are alike, and we specifically chose the ReMarkable Technology by GlasPro for its exceptional design and quality. The ReMarkable technology exceeds industry standards, all while possessing aesthetic qualities that make it a beautiful and functional addition to any space. ReMarkable glassboards are made of non-staining, low-iron, tempered glass and are cleaner, safer and more durable than messy traditional chalkboards and markerboards. GlasPro also ensured the writable glassboards qualify for Division 10 Visual Display Surfaces – The construction division that covers specialty products and materials for projects.
Design Options
In addition to GlasPro's high-quality standards, the design options are virtually limitless. Select from exceptional colour, surface, size and wall mounting solutions to create a one-of-a-kind template for collaboration. Here are some of the design options for creating your ideal magnetic glass whiteboard:
ReMarkable Glass comes standard in ¼" low iron, clear, tempered white.
Choose from GlasPro's standard glass colors or any color from the Pantone family
Standard surface finishes: Standard Gloss or Matte-Lustre
Magnetic or non-magnetic glass
Wall mounting options:  Hidden Z, Standoffs, or Adhesive
Digital printing available for patterns, company logos, custom art, etc
GlasPro also offers complete visual wall systems.
If this functional technology sounds like the perfect addition to your office, education, healthcare or home environment, please contact us to request the Magnetic Glass Product Data, Installation Guide & Spec Sheet.
ReMarkable by GlasPro Gallery
Magnetic Glass Whiteboard Accessories
GlasPro Magnets – $10 usd
Dry-Erase Markers Chisel Tip 8 piece set – $15 usd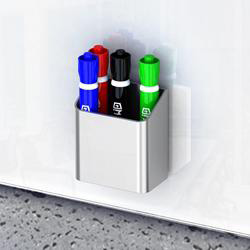 Magnetic Pen Cup (plastic) 3-5/8″ x 3-1/8″ x 3-1/4″ – $24 usd
*markers sold separately
Magnetic Eraser 4-1/2″ x 2-1/8″ x 7/8″ – $18 usd
Magnetic Marker Adapter (fits expo style markers) – $5 usd
*markers sold separately
Available Pen Tray
*GlasPro can provide you with a custom aluminum pen tray, which is cut to the same width as your magnetic glass panel.
Magnetic Pen Tray (aluminum) 12″ x 2-1.2″ x 1-1/4″ – $65 usd
*markers sold separately
Magnetic Pen Tray (aluminum) 18″ x 2-1.2″ x 1-1/4″ – $80 usd
*markers sold separately
Magnetic Pen Tray (aluminum) 24″ x 2-1.2″ x 1-1/4″ – $95 usd
*markers sold separately
Zbar Mounting System
Magnetic Pen Tray (aluminum) 18″ x 2-1.2″ x 1-1/4″ – $80 usd
*markers sold separately
Satin, Brite, Brite Gold Anodized Aluminum
Magnetic Glass also available with standoff hardware